After you create a Workspace and add a payment method, you can host meetings and invite Workspace members to host any number of events simultaneously and use all available Proficonf features.
In this article, we will describe in detail all the sections in the Workspace
The name of your Workspace is displayed in the upper left corner.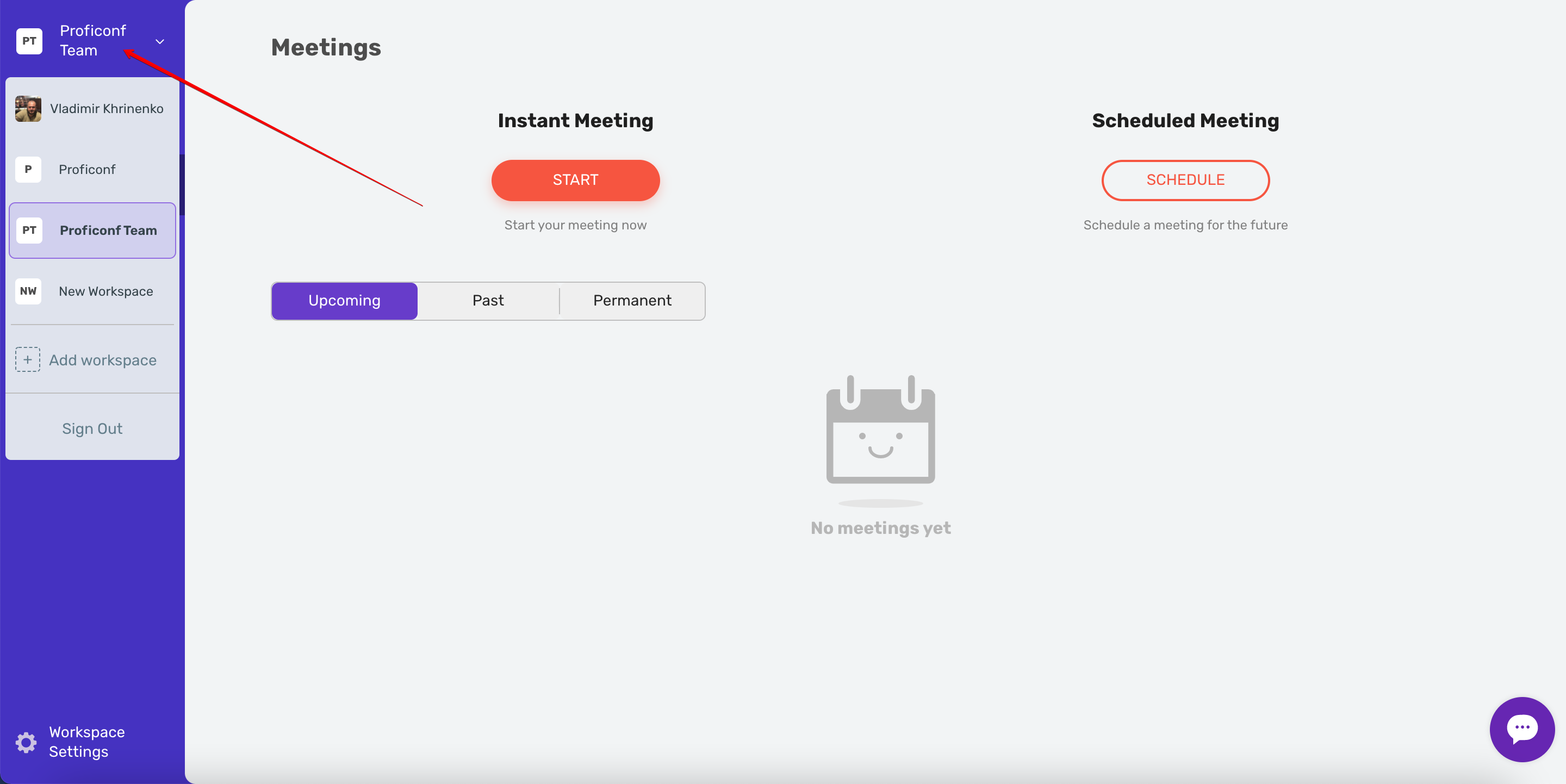 By clicking on this section you can:
1) Create an additional Workspace.
You can create an unlimited number of Workspaces and invite any number of members with Admin or Member roles.
2) Switch between Personal Account and Workspace Account.
3) Sign out of the account by pressing the "Sign out" button.
Dashboard
In the Dashboard section, you can see all the information with usage statistics for minutes of participation in meetings, recordings, live streaming, and storage usage. You can select the required month and check all the usage statistics, including detailed statistics on the events for that month.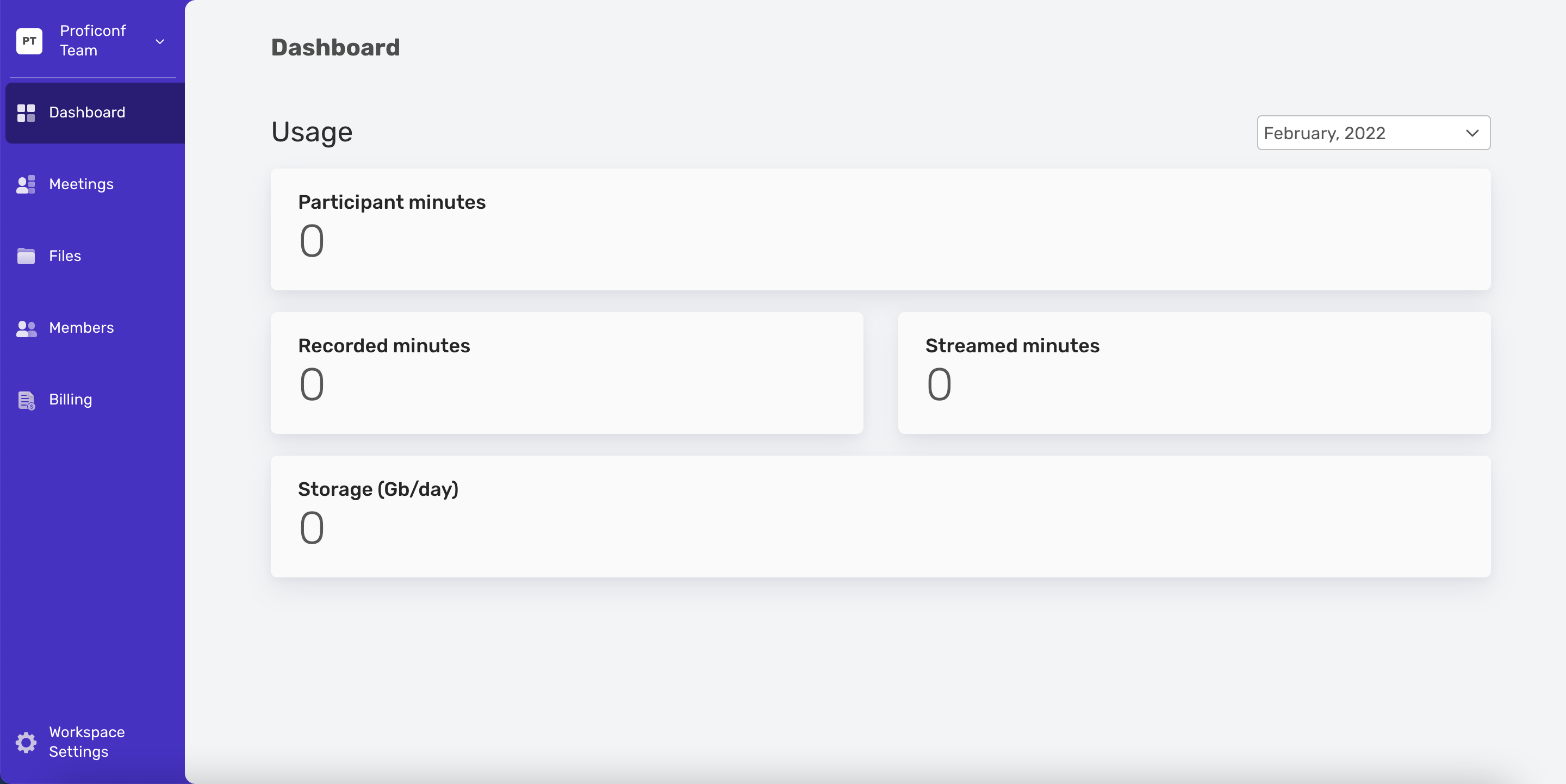 Meetings
Next, is the Meetings section, where you can create an Instant, Scheduled, or Permanent meeting.
All of the meetings you've created will display in the Upcoming if they haven't started yet, Past - for completed meetings, and Permanent - for permanent meetings.
Learn more about how to create, host, delete or edit events in this article.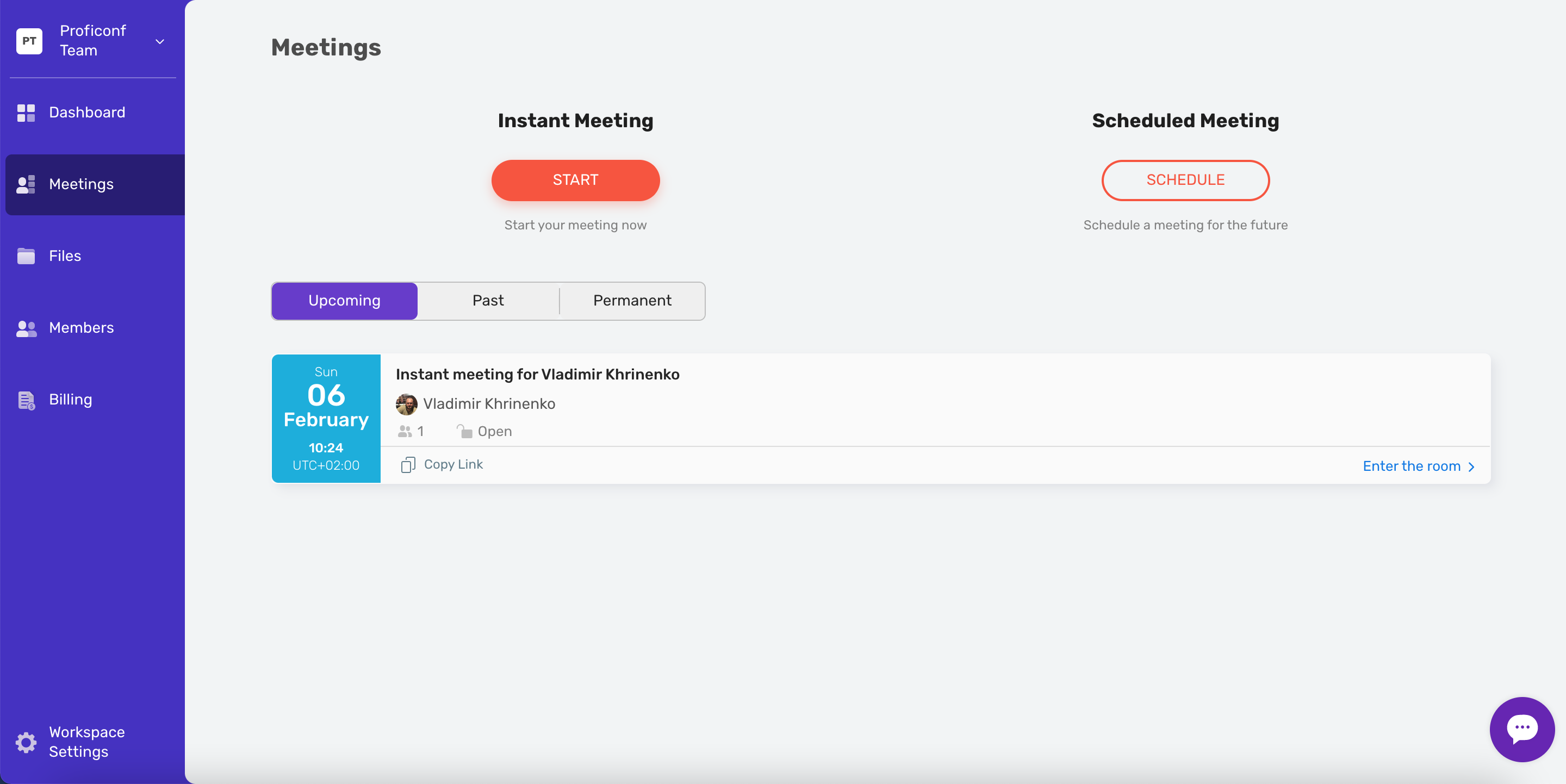 Files
By default, 500 GB of disk space is available for Workspace to upload and store files.
In the files section, you can upload files beforehand, click the "Upload" button to upload them.
Also, all files that have been uploaded by members are available for the Workspace Owner and Admins.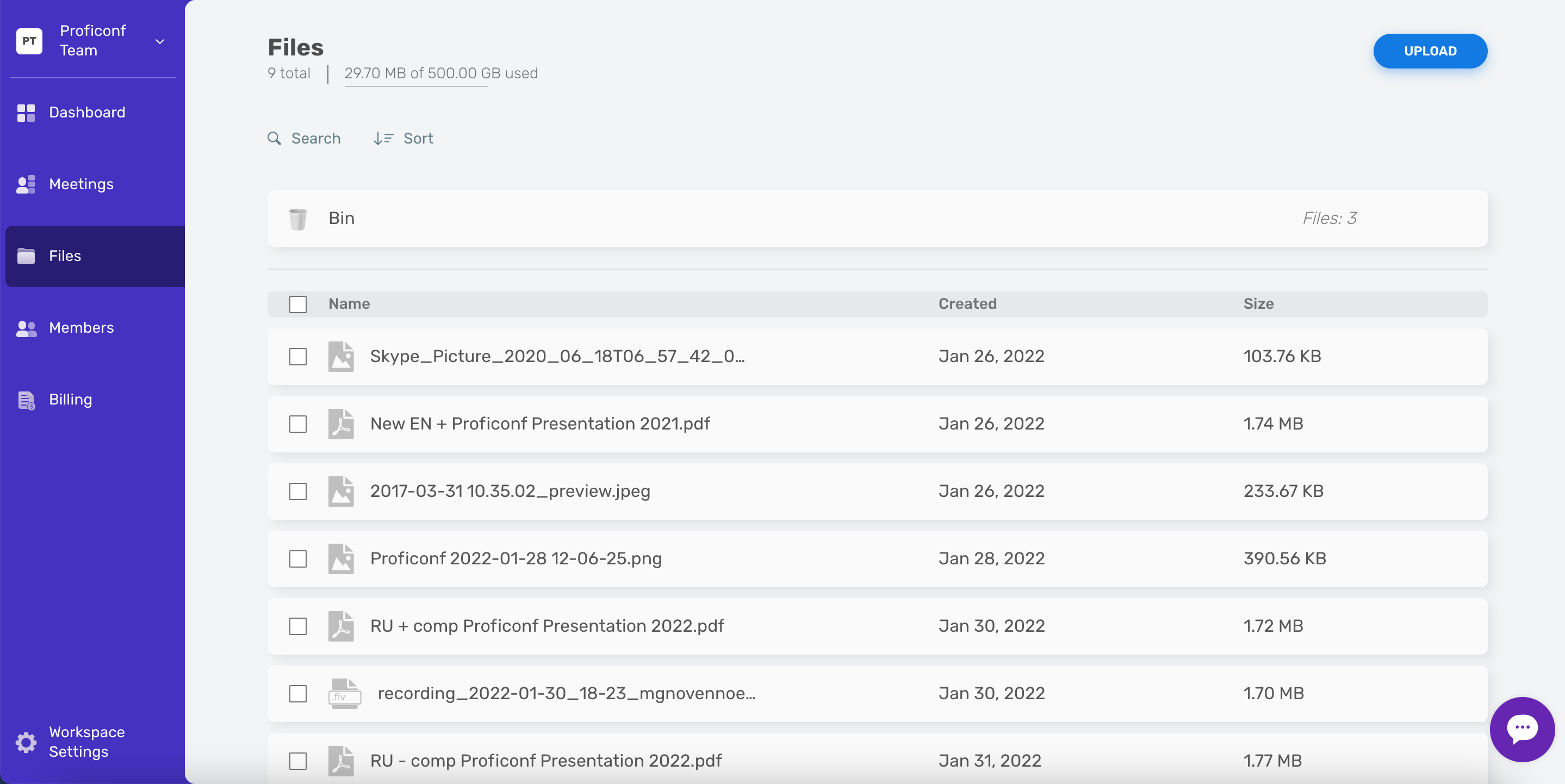 Members
A Workspace Owner can invite an unlimited number of Workspace members to host events. The Members section displays a list of all Workspace members.
There are three roles available for members in Workspace:
A Member is a participant who was invited by the Workspace owner.
Available opportunities: 1) Create, view, edit, and host their own meetings. 2) Upload, view, delete, download, and demonstrate your own files. 3) View other members of the Workspace Account.
An Admin is a participant who was invited by the Workspace Owner.
Available opportunities: 1) All the same, things a Workspace member can do. 2) Invite new members to Workspace, cancel these invitations. 3) View and delete any files in Workspace. 3) View and delete/update any events that other members have created. 4) Delete Workspace members other than the Owner. 4) Change roles for members other than the Owner. 4) Change Workspace settings, except for email changes. 5) View and change billing information.
Owner
The Owner is the participant who created the Workspace.
Available opportunities: 1) Owns the same full permissions as the Workspace Admin. 2) Can delete all Workspace members, including Admins. 3) Can edit the email address for Workspace.
Members Invitation
To invite any member to Workspace, click the "Invite" button and follow the instructions. Learn more about invitations in this article.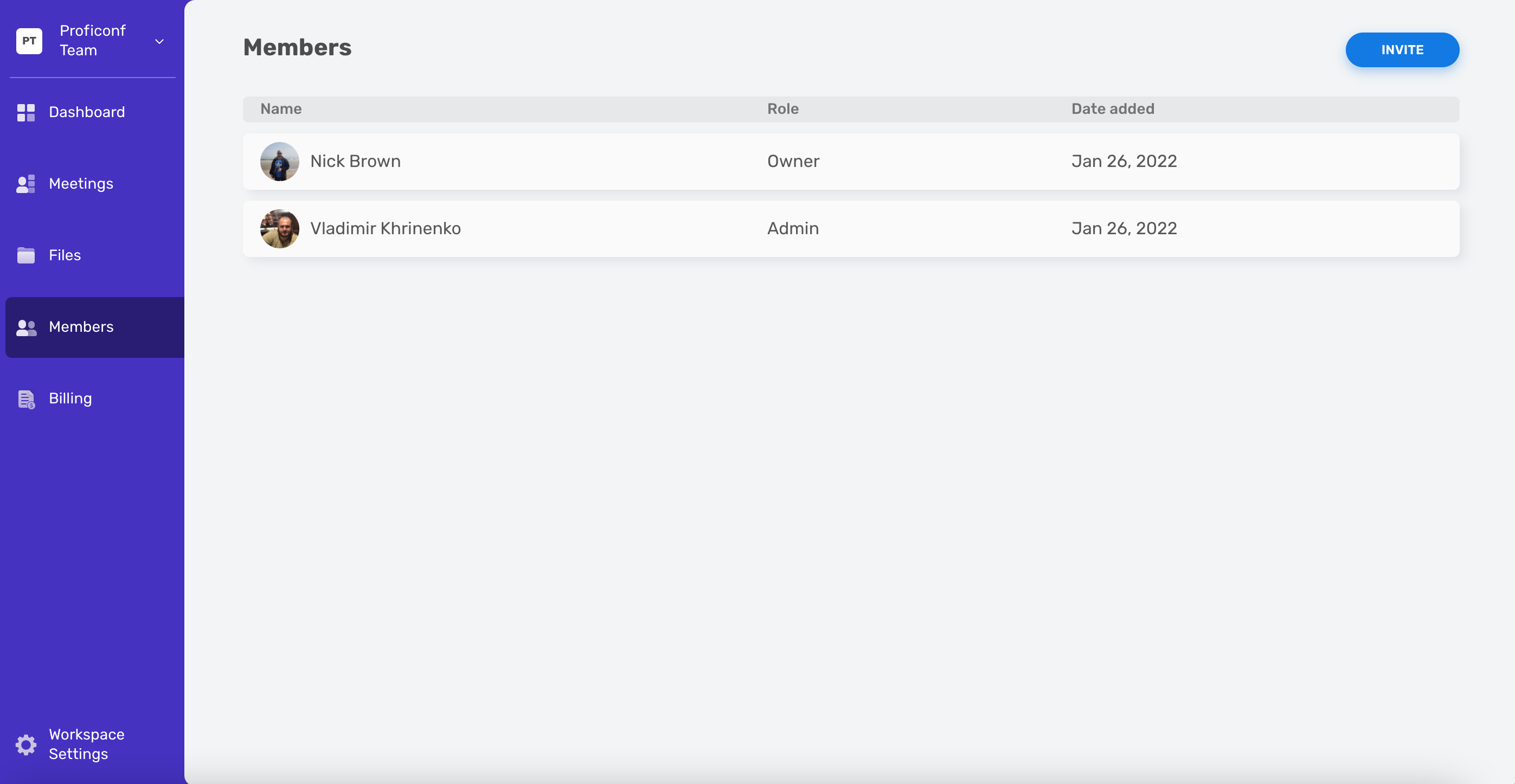 Billing
The Billing section displays Overview information, Billing info, and Payment methods. Read more about billing and payment in this article.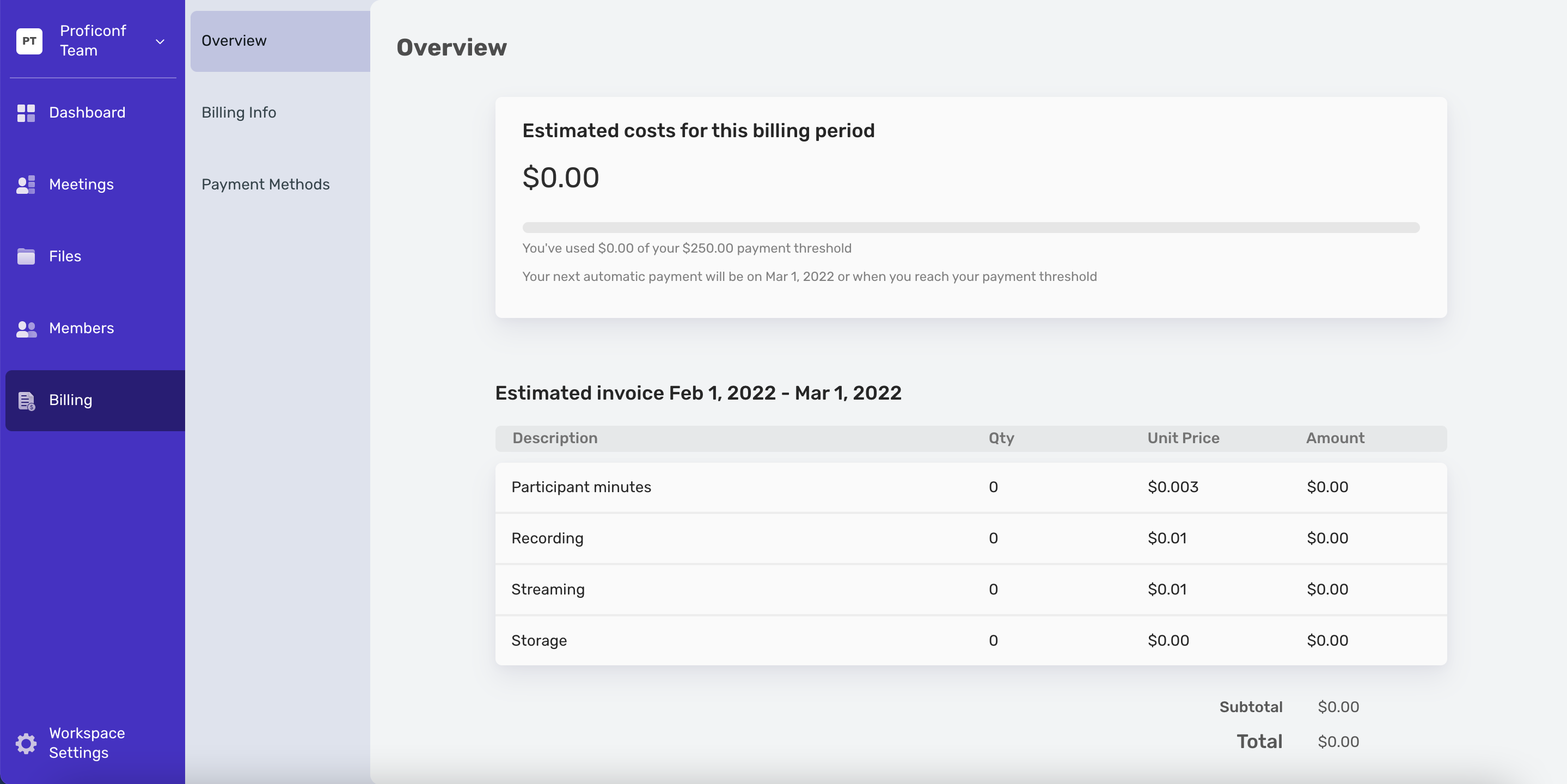 Workspace Settings
In this section, the Workspace Owner or Admin can edit the Workspace name and change the language. Only the Owner can edit the Email address.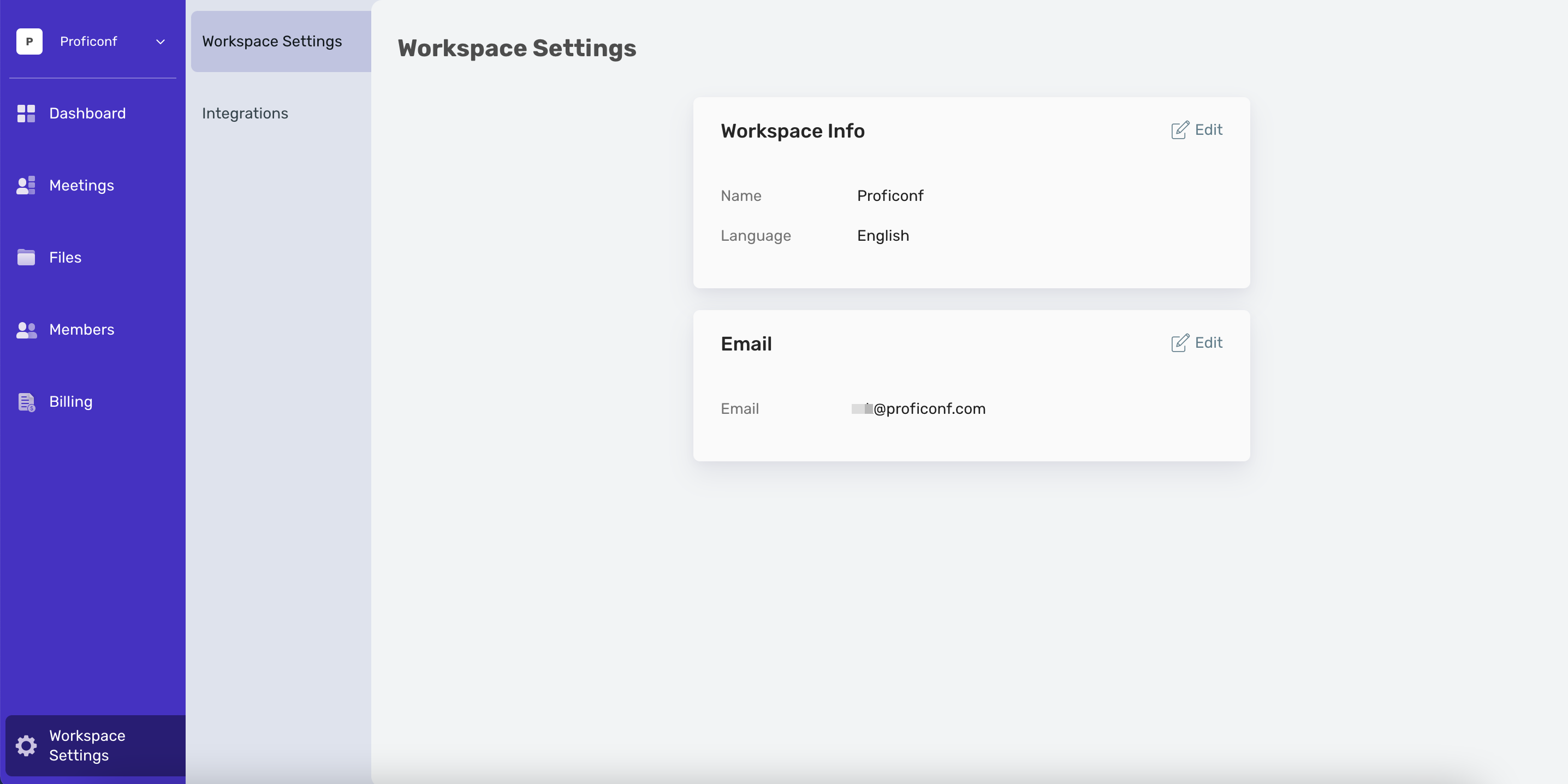 Integration section where you can generate and copy the API key, and embed Proficonf video conferencing on a website or application following the developer's documentation.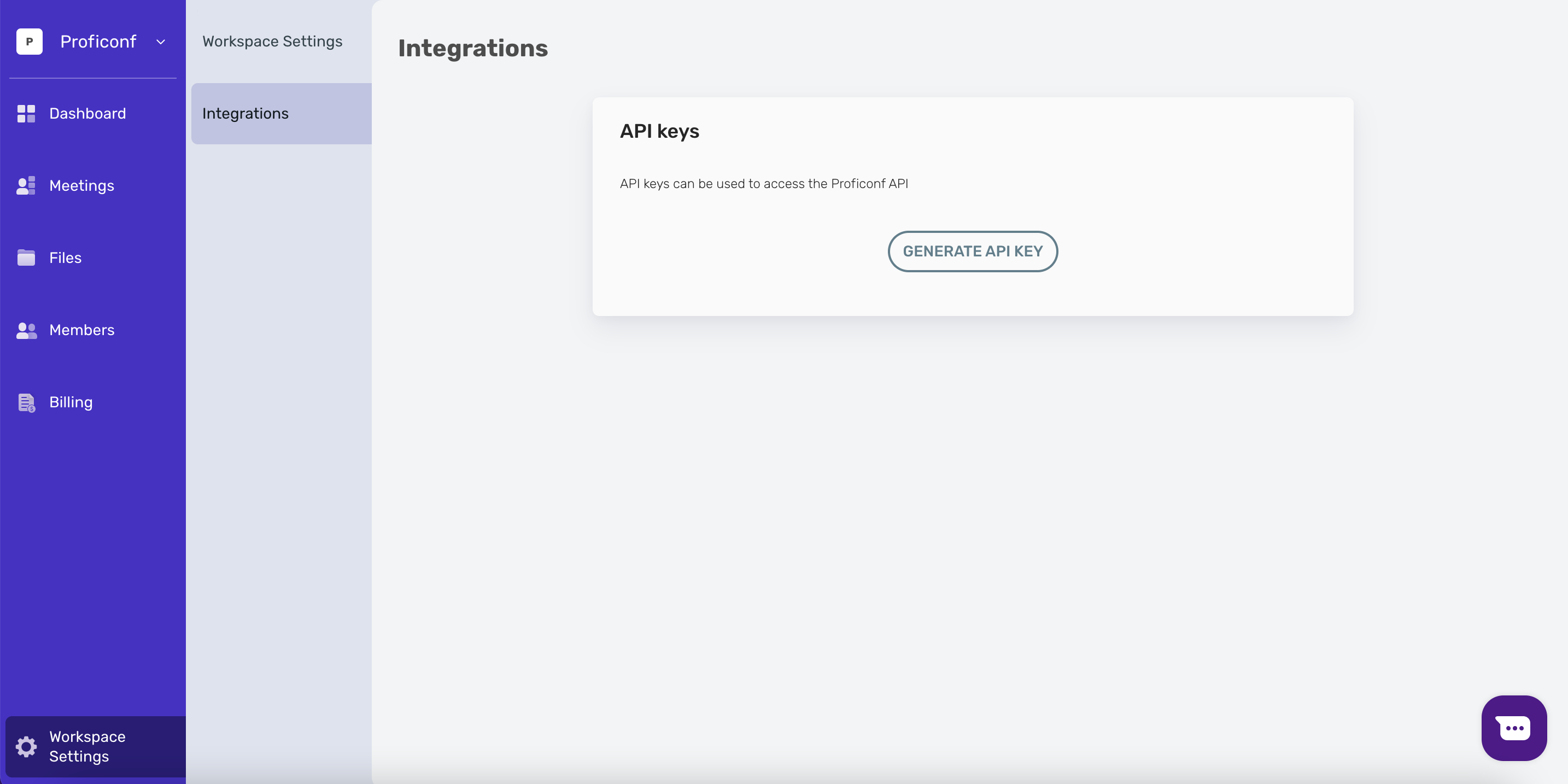 To delete Workspace, click the Delete Workspace button and confirm.