Pro and Premium memberships can additionally purchase Live streaming from the conference room to YouTube, Facebook, Telegram, Twitch, Restream, VK. For the Business plan, this feature is included.
In this article, we will focus on Live Streaming on Telegram
To start streaming, you need to create and enter the conference room.
This can be an instant, scheduled event, or a permanent room.

After you enter the conference room, you will see the button to start the Live stream in the upper right corner.

Feel free to click it).

When the button is pressed, a menu to Live streaming will appear.

Let's go to the streaming menu and explore it: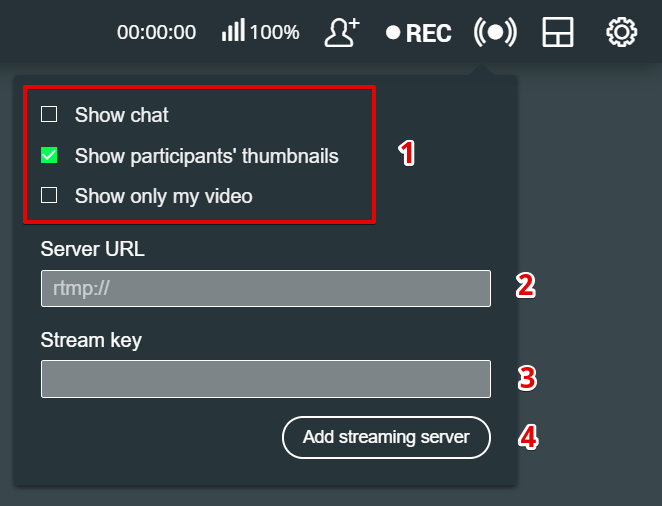 1. Live settings, tick the box:
-enable/disable chat;
-enable/disable participants' thumbnails;
-only hosts content.
2. URL server input field.

3. Stream Key input field.

4. The "Add streaming server" button.

After you enter the URL and Stream Key, click "Add streaming server".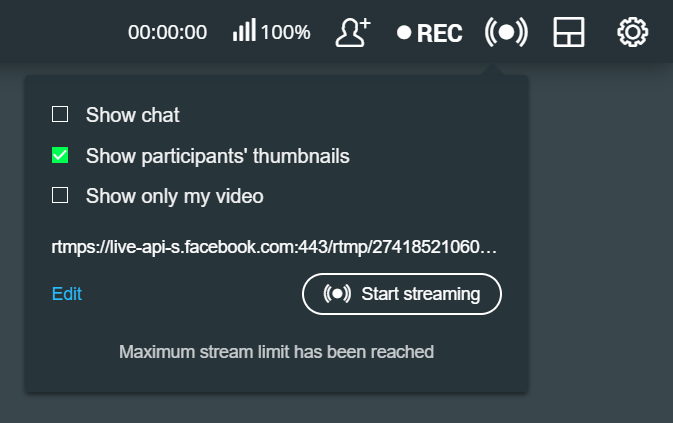 To start the stream press the "Start streaming" button.

To change or delete the streaming server, click "Edit". You can change or delete the streaming server.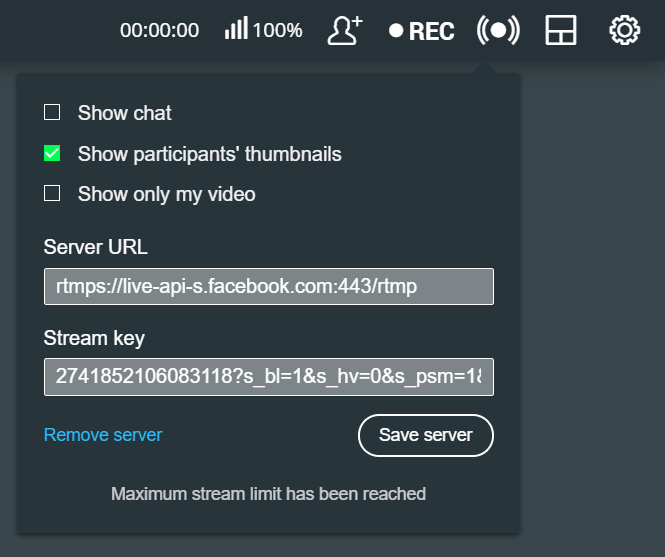 Note: the settings for the streaming server are automatically saved for the conference room in which you created it. You can pre-select and configure the streaming server for any social network.

Don't close the browser tab and go to desktop application Telegram to create the stream, and copy the Stream URL and the Stream Key
Live streaming in Telegram is available for groups and channels.
Start a new Video Chat in your group or a new Live Stream in your channel, tap the "Start With" button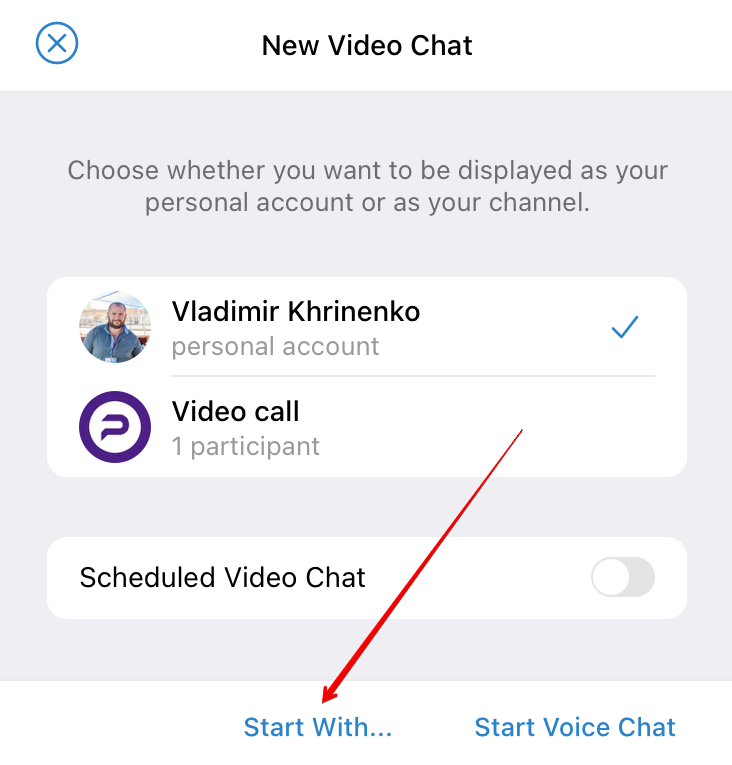 and enter the information found there (server URL and Stream key) into the Proficonf Live Streaming menu.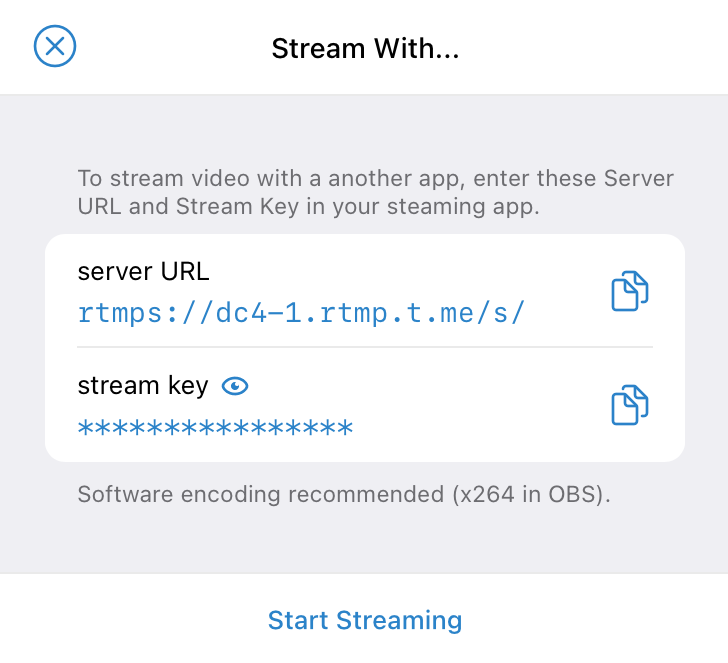 Then go back to Telegram and click the "Start streaming" button. In about 5-10 seconds, you will see the event broadcast.
You will need the latest version of Telegram to use Live streaming.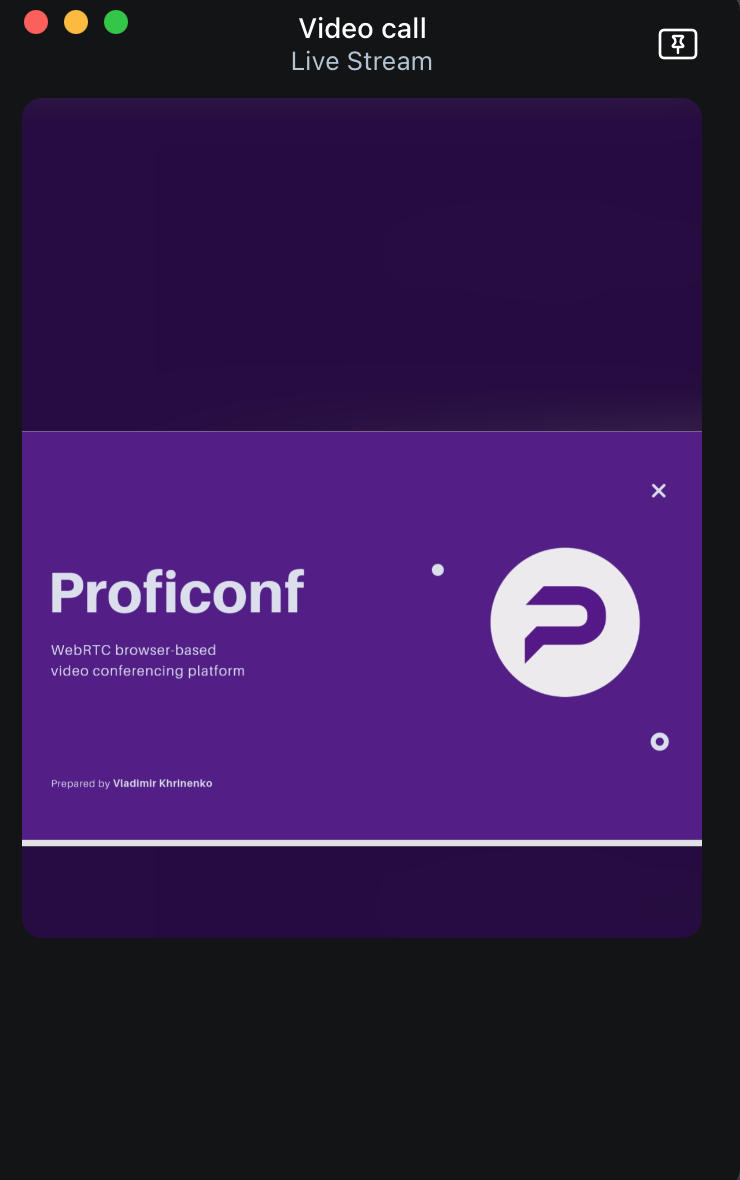 You can zoom the Telegram streaming window to full screen or leave and end the streaming.
Participants in your Telegram group or channel will see everything you are streaming.
When the event is complete, stop the Telegram and Proficonf streaming.