Proficonf meetings offer three basic roles for participants:
1. Moderator. 2. Speaker. 3. Viewier.
The meeting Host is the person to appoint the moderator and other roles.
This can be done when every participant joined the meeting. The host should go to the participant's list, pick a participant and call the menu beside the name.

The menu will look something like this: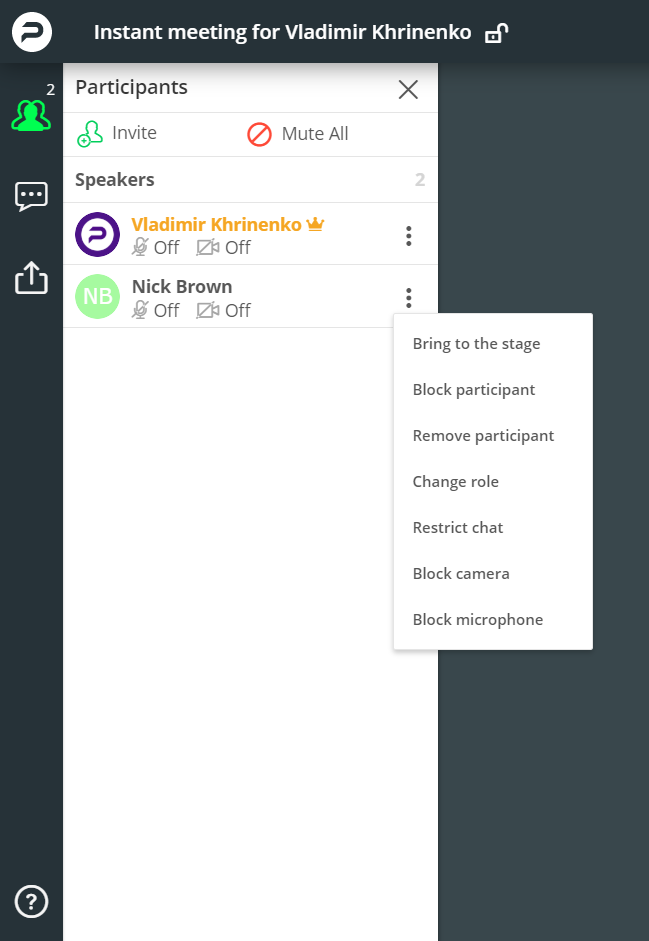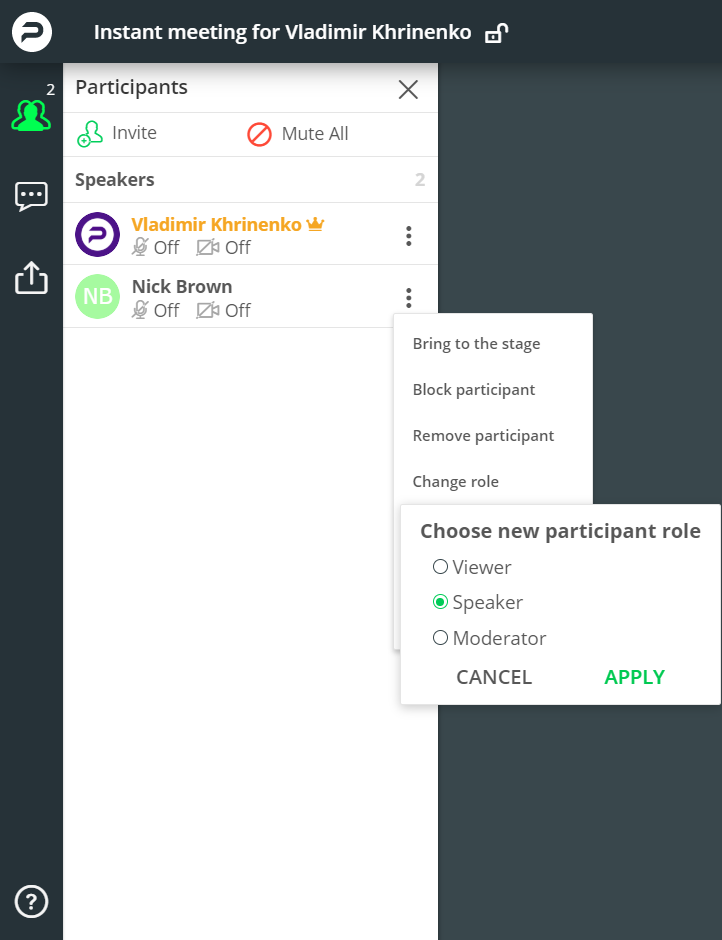 As you can see, it allows us to change the role for a participant, bring him to the stage, block the participant, remove the participant, control the participant's camera and microphone and restrict chat.

The meeting host is marked with a crown sign when in chat. The moderator is marked with a star sign.

Let's go into detail on the ways a participant may use his role.
Host
The host of the meeting is the person who organizes the event. The host is able to appoint the moderator of the meeting. He is the one who is able to stop the meeting if the host leaves. The host is the one to change sharing settings and privacy settings, etc. The host can rename the meeting as well as change roles for participants. If the host and moderator leave the room, the role to complete the room will be automatically (and randomly) transferred to another meeting participant. If the host returns to the room he gets his rights back automatically upon joining the room.
Moderator
Moderator can invite speakers, he can turn other participants' equipment (camera and microphone), he can mute every participant at once, he can manipulate recording and can start the event, he can moderate or close the chat, he can give meeting access to those who requested it. Moderators as well as meeting hosts both can change participants' roles. To Mute All participants host or moderator need to press the "Mute All" button: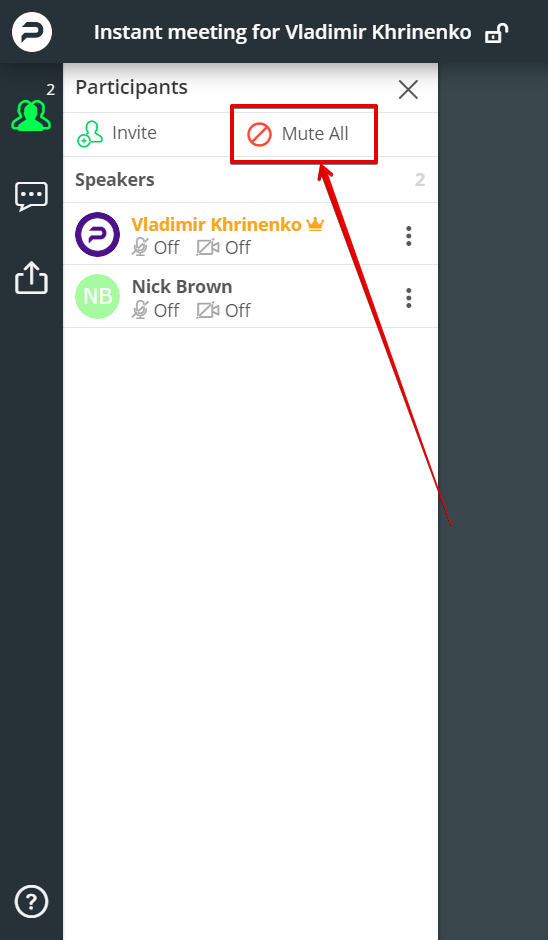 Then follow the further instructions on the popup that follows. Pick the devices you wish to mute.
Don't allow participants to turn on devices - slide the switch to the left.
Press the "Apply" button to confirm.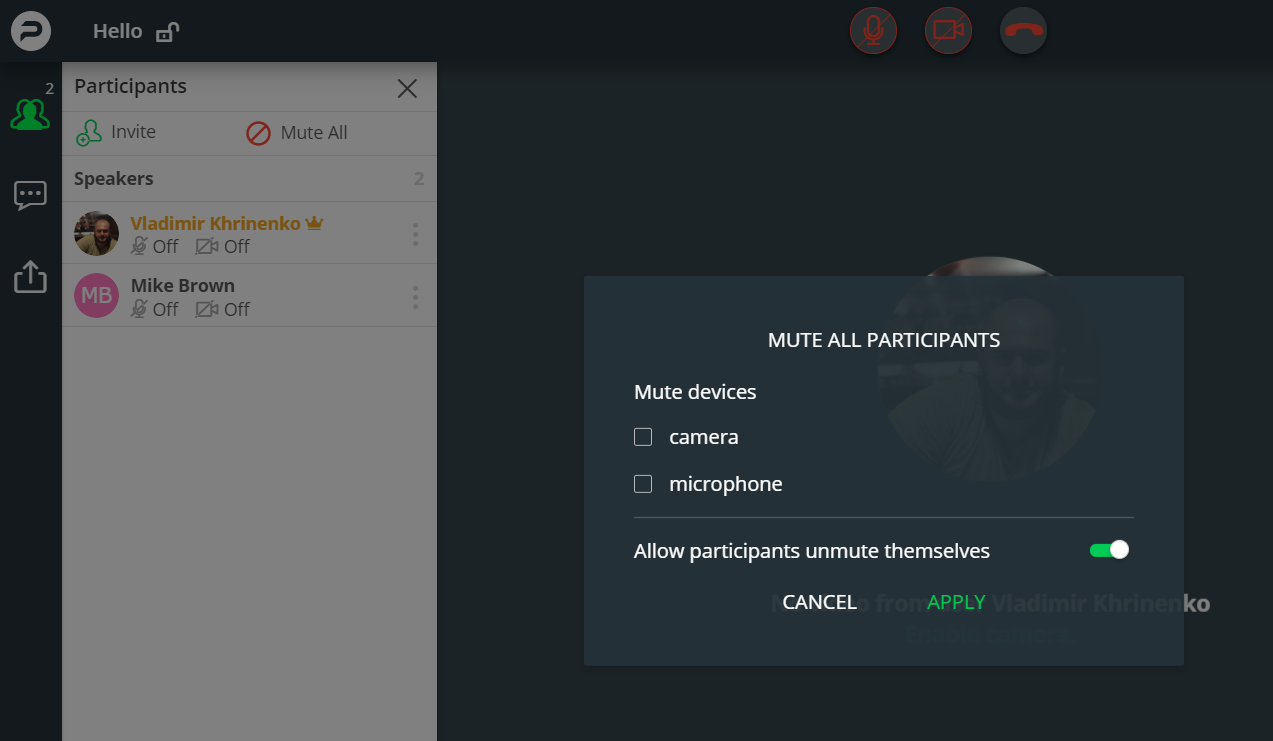 Speaker
Speaker can turn his camera and microphone on and off, can speak up with a report, download and demonstrate files
Viewer
The viewer can chat, listen and view the content of the event.

If you have other questions, please feel free to write to support@proficonf.com.