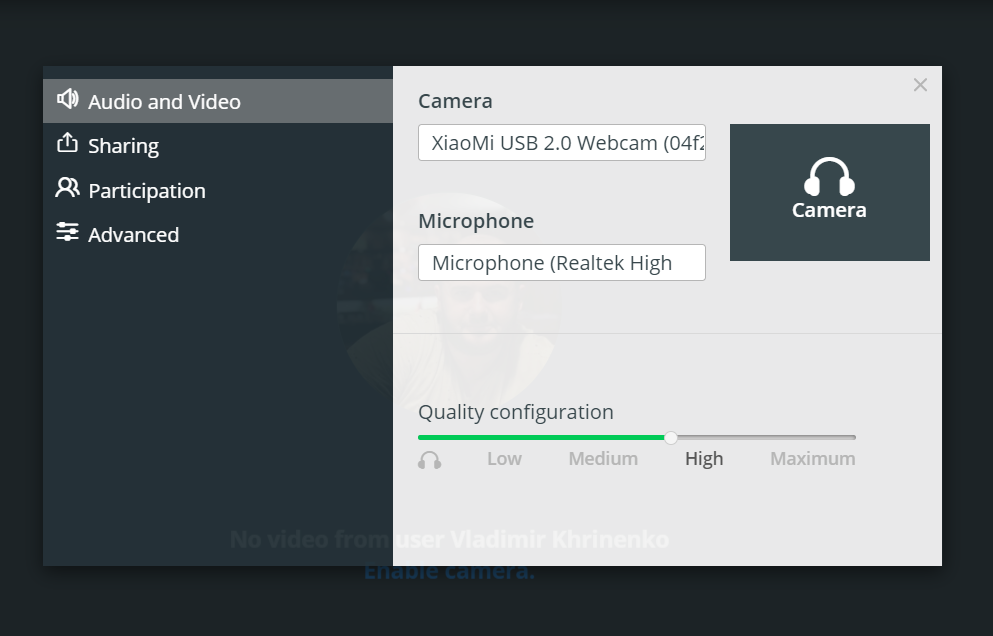 Audio and Video
Your video camera and microphone are controlled using the menu.

If the speed of your Internet connection is lacking and you experience inconvenience during communication, you can try to change the quality of the video received from other participants in the settings section.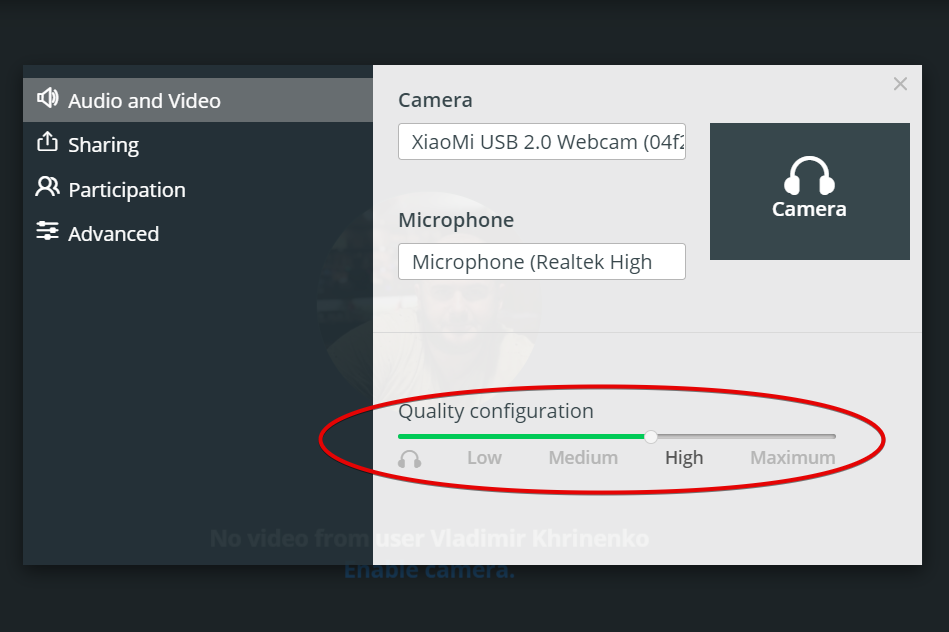 Demonstration/sharing section
A content demonstration can only be conducted by one participant at a time.

Every part taker can display content by default settings. The main screen displays the most active speaker. If a participant decides to interrupt the speaker by a content demonstration, he automatically gets the main screen.

If you, as a host, wish to single-handedly control access to the demonstration, go ahead and pick the "Only host" option in the "Who can share" section.

The demonstration center will be blocked for other participants.

If you want to allow all participants to demonstrate, but you do not want anyone to interrupt you, pick the "Only host" option in the "Who can start sharing when someone else is sharing" section.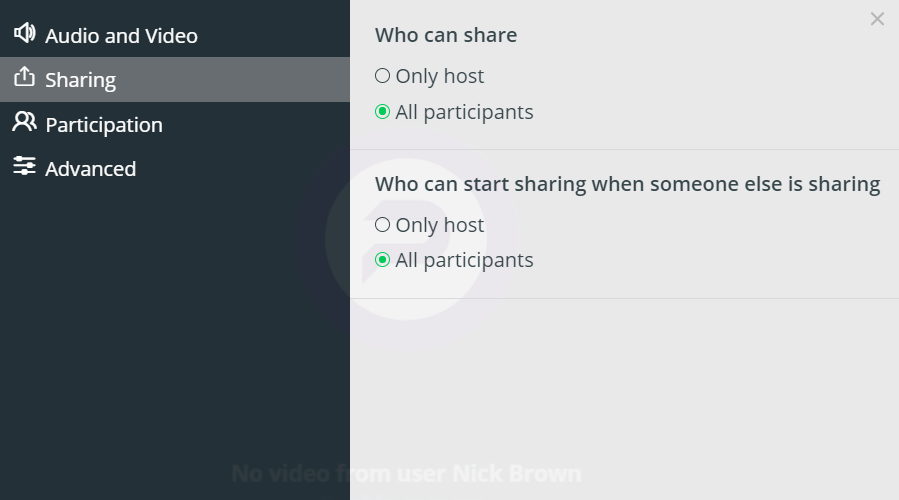 Participation
In this section, you can change first and last names. Press "Save" to confirm.
The meeting host can prohibit sending knock-in requests to prevent interruptions once the event has started.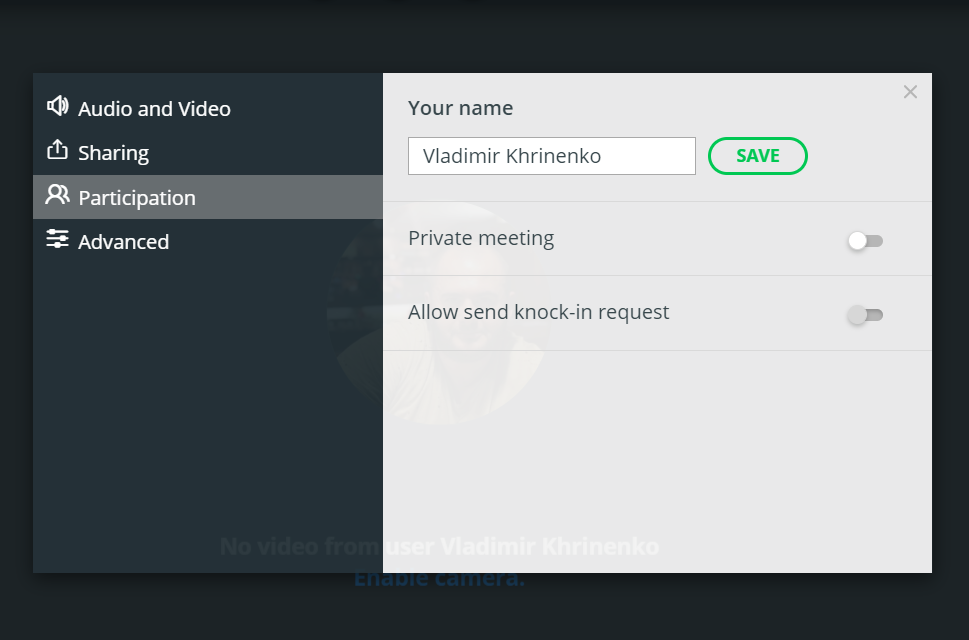 The host can prohibit pinning/unpinning. This way all participants will watch the current speaker.
Advanced
The host can disable chat for participants in the "Advanced' section of the settings. A user can also enable or disable the ability to choose, whose speech is going to be displayed on its main screen.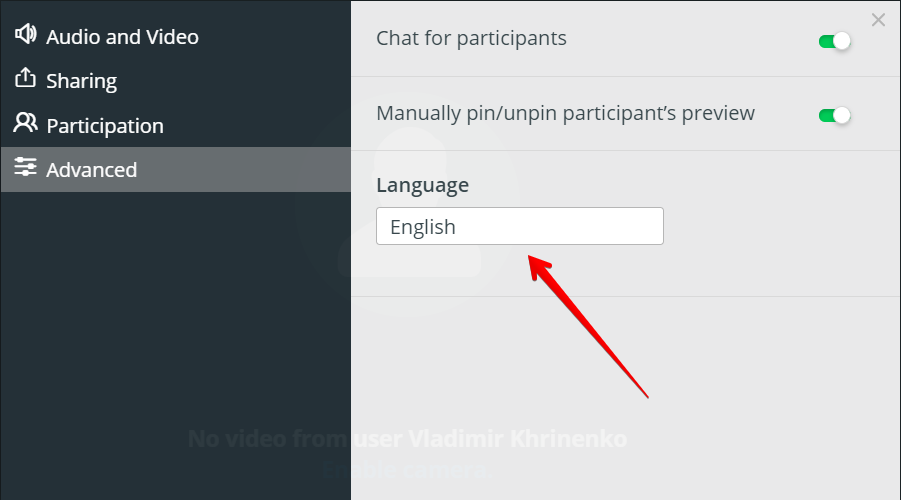 Meeting Language Settings
To change the language of the interface during the meeting itself go to the meeting Settings button, pick "Advanced" and pick the language you prefer. The preference will automatically apply.

Proficonf provides a language interface at the moment: in English, Russian, Italian, Portuguese Brazil, Spanish.
Meeting Privacy Settings
In this section, the meeting host may choose the private mode for his event. In case you pick the second option, the potential participants of the meeting will be able to send a request to join. The host decides if he wants to grant it.

Press the lock icon in the upper left corner of the conference room interface. Right beside the name of the event. Click once to close access to your event, click once more to open the lock and make your event public.